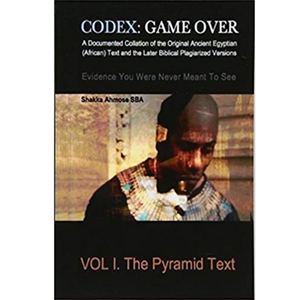 CODEX: Game Over - A Documented Collation of the Original Ancient Egyptian (African) Text and the Later Biblical Plagiarized Versions Evidence You Were Never Meant To See (Volume 1)
Do You Want To Know Exactly Which Bible Verses Were Plagiarized From The Ancient Egyptian Text?!
The most unique feature about the Bible is not the narrative within it, but it's obfuscation and ambiguity concerning its Ancient Egyptian origin. It is from this attendant 'mystery' (aka 'divine inspiration') that the book itself derives much of its misplaced authority and undeserved power - a true misrepresentation of God if ever there was one. 
Here for the first time in history...
Laid out for your own eyes, over fifty (50) of the most important Bible verses/motifs, each placed directly under the original ancient Egyptian Pyramid Text (AEPT) versus (called 'Utterances'). 
No greater evidence can be brought to bear that explicitly demonstrates, illustrates, and confirms beyond a shadow of any doubt the ancient Egyptian origin of both key and essential Biblical verses and motifs. This book is the product of my exclusive comparative research painstakingly carried out over the course of two complete consecutive summer seasons. 
I embarked on this journey to compile the information in this book because I became frustrated that I could find no comprehensive publication with which to 'prove my assertions' or to teach others. I took on the task myself of combing through the very first English translation of the AEPT, published by the eminent Egyptologist Samuel B. Mercer.   
Prior to the printing of Codex Game Over, no such publication had been made! 
Most people are unaware that the standard translations of the ancient Egyptian Pyramid Text done by RO Faulkner are, in many respects, efforts at both 'sanitizing' and 'sterilizing' the Egyptian text. This was done as a concerted effort to reflect and highlight the much purported 'differences' between both the Bible and the Pyramid Text - resulting in intentionally created disparate and wonting comparisons between the two bodies of work.
Based upon the epigraphic evidence, sanitation and sterilization of the Egyptian text was by design, strategically done in the service of Christian apologetics, relying on typical and historical deceit (that without fail, accompanies such undertakings). 
With the 'untampered' work of Mercer's original translations, I have laid before you an authentic collation explicitly indicating to you the 'inauthenticity and disingenuousness' of the Bible and the claims made by/about it. 
If you have ever wanted to definitively prove the ancient Egyptian origin of the Bible, you now may do so with documented confidence using your own copy of Codex Game Over.
This book allows you to look your pastor, your Christian friends, family and relatives and other proponents of the Bible square in the eyes and proclaim to them the very title of the book… Game Over (or if you will… 'checkmate').  
Shipping Details:
USA Shipping ONLY
Preparing and printing your Codex Game Over can take 3-5 business days.
Once Codex Game Over is printed, shipping can take 7-14 business days.
During checkout, double check that your email address is correct and accurately spelled because your order tracking number will be automatically sent to the email address on file.
During high order volumes, the time to prepare and print Codex Game Over can be extended.
Refund & Return Policy:
There are no returns
There are no exchanges.
There are no refunds.
All sales are final.
I am certain that with this Kemetic Apparel satisfaction will be yours.